Postcard is a neat way to send a short message, invitation, announcement, or just say hello. There's no need for an envelope and these postcards' messages can be pre-printed with your text on the back by Zazzle. Then all you have to do is to add a stamp and an address.
---
---
---
---
---
Postcard Collecting
"Deltiology is the study and collection of postcards. Professor Randall Rhoades of Ashland, Ohio, coined a word in 1945 that became the accepted description of the study of picture postcards. It initially took about 20 years for the name to appear in a dictionary."
"Postcards are collected by historical societies, libraries and genealogical societies because of their importance in research such as how a city looked at a particular time in history as well as social history. Many elementary schools use postcards to teach children geography. Postcard Penpal programs have been established to help children in language arts."
"Worldwide, deltiology is the third largest collecting hobby after stamp collecting and coin/banknote collecting. Postcard clubs may be found in many countries; and these clubs, as well as related organizations, frequently host postcard shows."
Source
Diamond sunflower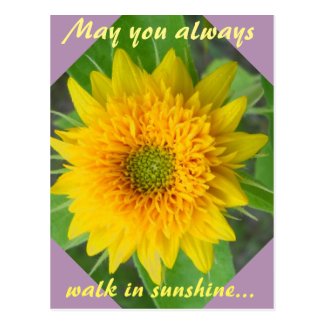 Diamond Sunflower with inspiring message postcard
by
DariArts
Find other Flowers Postcards at
zazzle.com
Golden snail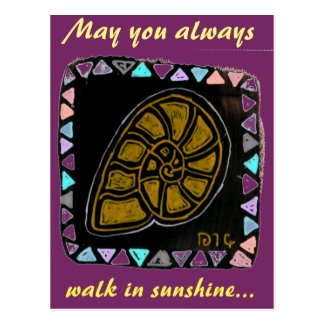 Native-art style golden snail postcard
by
DariArts
Browse for more
postcards
from zazzle.com.
---