Today's newsletter contains tons of information. I do realize that not everyone might be interested in everything I write about and that's why I divided the content into a few chapters. That way you can easily go back to whatever benefits you most – or maybe answers one of your questions.
.
One more thing. Comments at the bottom of this page are very much appreciated! Sometimes I get overloaded with work and emails are the first thing I take off my to-do list – because they can get very time consuming. But I do read, approve and sometimes respond to each of the comments you leave.
.
.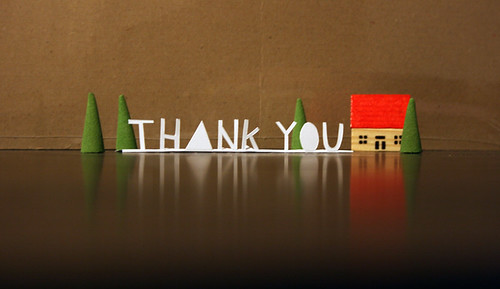 Photo Thank you – courtesy of hellojenuine.
. .
Stuff to remember – upcoming events
Two fun events are coming up at the Slovenian-American Club in Spring Hill. There's still time to make arrangements and join us – no matter where you live. It's going to be fun, I guarantee! 🙂
On Saturday, January 28, 2012, Walter Ostanek and Bob Kravos with his Boys In The Band will take the stage. Dance form 2 to 6 PM, door opens at noon. For more details check the Suncoast Dance and Party Center schedule webpage at:
January 2012 schedule

. 

. 

And for the following Wednesday, February 1, 2012, another Jam Session Dance has been scheduled. Once again we expect some outstanding musicians to join us for the afternoon of fun, good music and dancing – from 4 to 7 PM. More details at:
February 2012 schedule 
Heartwarming stuff
.
Below are just two examples of the ways some people touched my heart recently. It's so wonderful to have great friends, even those you don't hear from in a while. More often than you know some of you make my day by just being your true self. And I feel tremendous appreciation for all the brilliant, friendly, kind and generous people I met, especially since 2004.
I received an email that made me cry. But wasn't sad – at all.


.


Back in Slovenia I have a friend. Her name is Erika. She knows me since I was 3 months old – when my parents with their first baby (me) moved to the village where I lived most of my life.


.


In the years that followed, Erika and I have been together through a lot of adventures and discoveries, laughter, tears and some bruises, shared our secrets, together found a hiding spot for a photo of a cute boy I met during summer vacations when I was 10 years old, cried together when my doll Suzana drowned in a raging stream after the torrential rain, we both danced in a folklore group, we sang together in duet and were asked to do it over and over again, and I was the one who picked a name for her first baby girl. The funny thing is that my son was somehow named after her.


.


Later on, when our paths went in different directions, we still managed to keep in touch – not too often, but enough to exchange some news about the latest changes in our lives. Even after I've been living across the ocean for almost a dozen years, we still pick up right where we left off the last time we talked.


.


Today, Erika is a proud grandmother of five grandchildren, always busy babysitting, cooking and baking – and who knows what else.


.
.
Back to that email I mentioned at the beginning of this story. It came from Erika's younger daughter. She reminded me her mom's birthday was coming up in April and told me her dad (Erika's husband) and her sister would like to do something something very special for her, give her a big surprise.
.
The reason she was writing to me was her question – if there's any way I could come to Slovenia in April and be a big birthday surprise for their mom and wife – and my oldest friend. I was very touched that they thought of me. It made me cry when I had to tell them how much I'd love to be Erika's big surprise – but I couldn't…
.
I came home after I spent a wonderful afternoon with "my tribe" as my friend Gayle would say – and there was another one of those emails that keep making me feel so blessed for having such a precious circle of friends. A healer from California wrote:


. 

Hi Daria, I'm still delighted with the fabulous lens you created about my work back in 2009. It's evocative beauty is still powerful and uplifting. I've recently shifted my transformational work from private sessions to teleseminars, which are starting up this week. I believe that releasing the sessions, and devoting my time to teaching what I know on a broader scale is more in step with humanity's highest needs now. I'd be delighted if you could attend the first teleseminar… I've included the call-in information below in this email, so that you can attend for free. Many blessings…
Web related stuff
During the past few months or so I witnessed several of my online friends' email accounts being compromised – or hacked.
.
What usually happens after an unauthorized person gains access to someone else's email account – are tons of spam emails to everyone in the address book. The topics of those emails are most often about the heartbreaking trip to England, some tempting financial offers or intriguing get-rich-quick online offers.
.
I've never discussed this with another person – so this is just my personal theory about how the email hacks happen. Bear with me through the explanation – because there's a very simple solution to these unfortunate events.
.
Behind every website there's at least one real person. Some people who maintain these sites have access to the information that is supposed to be confidential and secure. But like with most everything – things can be used in beneficial ways – or be abused – and there's just no way to make enough rules to keep everything under control. It's in the nature of the human beings to find their way around any kind of obstacles/rules.
.
I think here's what happens. You have an email account and a password to log into it. Then, as you start using Internet more, you open an account with another website and another. And that's perfectly fine – the web is supposed to connect people and benefit them, be fun to use, provide information. To keep it that way, use different password for every website. Or at least – make your email account pass unique – and don't use it any place else.
.
It's important to keep you e-mailbox secure for many reasons – not only because opening a new account and transferring the whole address book etc. – is no fun, to say the least.
.
Some time soon I'll give you a few tips about how to make a stronger password and how to protect your computer from viruses and stuff. Once again, I am no expert on the topic, but I do spend a lot of time online – so I'm sharing with you what works for me. .
.

Photo Email Tips – courtesy of planeta
. .
Past events
One of these days I'm hoping to catch up on all the events that had happened already. I've been pretty good with uploading the videos to Youtube. Putting together more pages and posting photos, however, is another story. So far I managed to cover two events I've been to. Both pages are loaded with videos I took there and if you decide to take a look, you might be surprised about how many people you recognize. Click on the links below and see for yourself!
.
.
Flowers and stuff
After two two-day-frosts in a row, most of my blooming plants are gone – but not all of them. Yellow pansies seem to be thriving despite the temperatures in mid-teens. They look especially pretty – kissed by a morning dew.
Another plant that's making my heart sing these days is a white carpet rose I just planted this past summer. So far it didn't produce too many blooms but a few there were – were breathtakingly beautiful and had a divine scent. These days my white carpet rose doesn't mind the low temperatures and is instead growing four new buds! I can't wait to see them open…
.
.

Photo courtesy of rainyday*knitter
.
.
Some fun stuff
Slovenians sure know how to party – no matter how cold it gets! Click on the link below to hear a lively new polka by ensemble Modrijani (Wise Men) – performing live for TV show recorded at one of the popular ski resorts – Golte: Modrijani – Ti, moja rožica (You, My Litle Flower)


.


And here's a little story about Golte, Slovenia, ski slopes.


.


When I was in high school the buses took  us – students –  once every year to Golte where we had to clean the slopes. That mainly meant walking up and down the steep hillside, picking up the rocks.


.


Even these days, when the memory makes me laugh, I can't think of any benefits that this mandatory school field trip provided – except for the free labor to ski resort. I can't even remember if they provided lunch for us – but if they did – it couldn't be all that good… lol


.


I sure remember, though, that I hated every square centimeter of Golte at the time, wishing I never had to go there again. Of course, if our cleaning ended something like in the video above, I'd be more than happy to volunteer – often! 😉


. 
. 
Photo Modrijani – courtesy of jan toplak
. 
One more music video for you – winner of the title Na zdravje Pesem zime 2011 (Cheers' Song of the Winter 2011) – a very traditional waltz by Tone Rus Ensemble, singing about the old times when there was no riches but all the children were happy and healthy:
Pesem zime: Ansambel Toneta Rusa – Čas bi zavrtel nazaj (I Wish I Could Turn the Time Back)


. 


By the way, the band leader, Tone Rus, playing guitar in the video, made a promise that he would shave away his mustache in case his song wins the title. It just so happened that after 41 years his face will become clean-shaved some time in February, in front of the Slovenian national TV cameras… lol

. 

And in case you have time to watch this whole show, 113 minutes long, with lots of good music, click on the link below:
Na zdravje Pesem zime – 13. januar 2012

. 
Till next time, my dear friends,